Andrew Videos on USB Update 2
Submitted by
Andrew
on Sat, 10/13/2018 - 08:51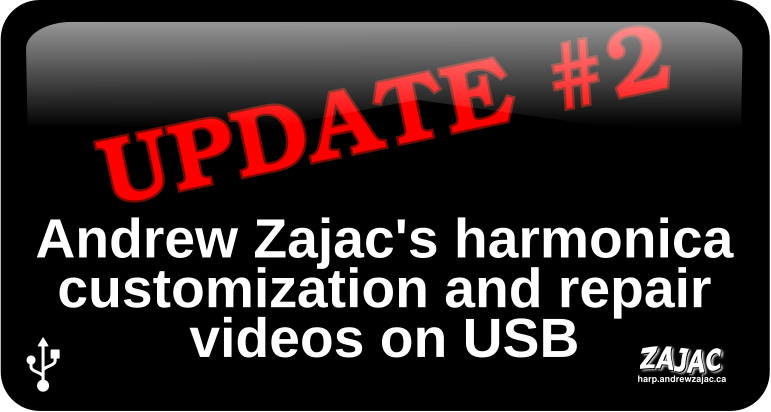 UPDATE 2 is here! 2018-10-18
New videos and new documents have been added to my Customizing videos on USB! This update includes FOUR new Premium videos. My Premium videos are only available from me and are not found on YouTube.
For those who have purchased my USB videos before October18th, 2018 and would like to get the latest videos and documents, this update is for you.
This update is a 559 MB download. The files you get with this update will not serve you unless you have already gotten the USB videos and documents.
You can download and extract the update files to your computer. Documentation is provided as PDF files.
I have gotten fantastic feedback since I first released these videos, thanks! The contents of this update reflect the best and most frequent questions and feedback as well as upgrades to my tools.
This update includes more never-before-published insight and tips on advanced reed work and other upgrades.
2018-10-18
Added videos:
- Chamfering (Premium)
- Upgrading a stock Special 20 comb (Premium)
- Roll (reed work) (Premium)
- Insights into the 7 Overdraw (Premium)
- Harmonica Customizing is Harmonica Rebuilding (YouTube)
- Easy way to support the blow reeds while tuning using a Hockey Stick (YouTube)
- Hohner Affiliated Customizer program at SPAH 2018 (YouTube)
Added Documentation
- Advanced Tuning: Written instructions on how to properly use a strobe tuner. A guide on how to buy a new or vintage strobe tuner.
- Chamfering guide.
- A method for testing/assessing a harmonica.
- An easy way to support the blow reeds while tuning.
More to come! The science and art of harmonica customization continues to grow. Updates will continue this way in the long-term.
---
After you purchase this item, you will be emailed a link to access the files. You will also be sent login information in case you need to go back and download the files again if you run into difficulties.