Andrew Videos on USB Update 1
Submitted by
Andrew
on Sun, 03/18/2018 - 13:37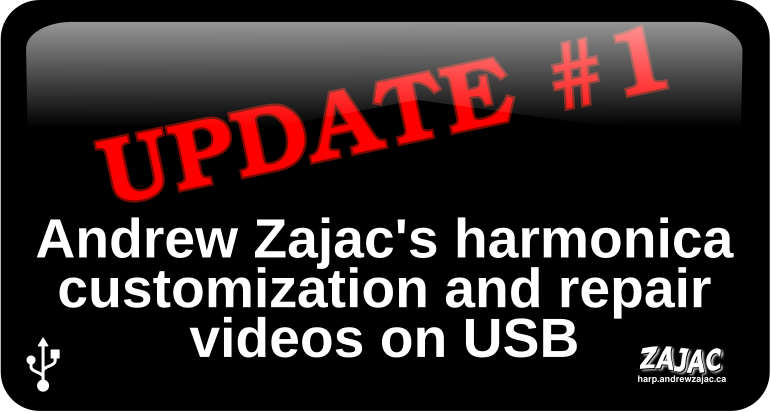 UPDATE 1 is here! 2018-03-20
New videos and new documents have been added to my Customizing videos on USB!
For those who have purchased my USB videos before March 20th. 2018 and would like to get the latest videos and documents, this update is for you.
This update is a 325 MB download. The files you get with this update will not serve you unless you have already gotten the USB videos and documents.
You can download and extract the update files to your USB drive or anywhere else you want to store them. Documentation is provided as PDF files.
I have gotten fantastic feedback since I first released these videos, thanks! The contents of this update reflect the best and most frequent questions and feedback as well as upgrades to my tools.
This update includes never-before published insight and tips on advanced reed work.
2018-03-20
Added videos:
- Use your mouth to guide Reed Work (Premium)
- 7 Limit Just Intonation
- The Flatness Tool™ instructions
- Reed Plate Claws™ instructions
- Answer to the most common customizing question
- To Tap or to Self-Tap?
Added Documentation
- Updated Reed Replacement information
- The Flatness Tool™ and Reed Plate Claws™ (Replaces F-tool and Comb Tool)
-Insight on why the BLOW plate is much easier to deal with than the DRAW plate
- Best lighting for reed work (and everything else)
- Altering Standard Richter to Powerbender
- Tuning offsets
- Gaskets are not the best way to make a harp airtight
- How many cents are there in a Hz?
More to come! The science and art of harmonica customization continues to grow. Updates will continue this way in the long-term.
---
After you purchase this item, you will be emailed a link to access the files. You will also be sent login information in case you need to go back and download the files again if you run into difficulties.